Al fresco in Fitzrovia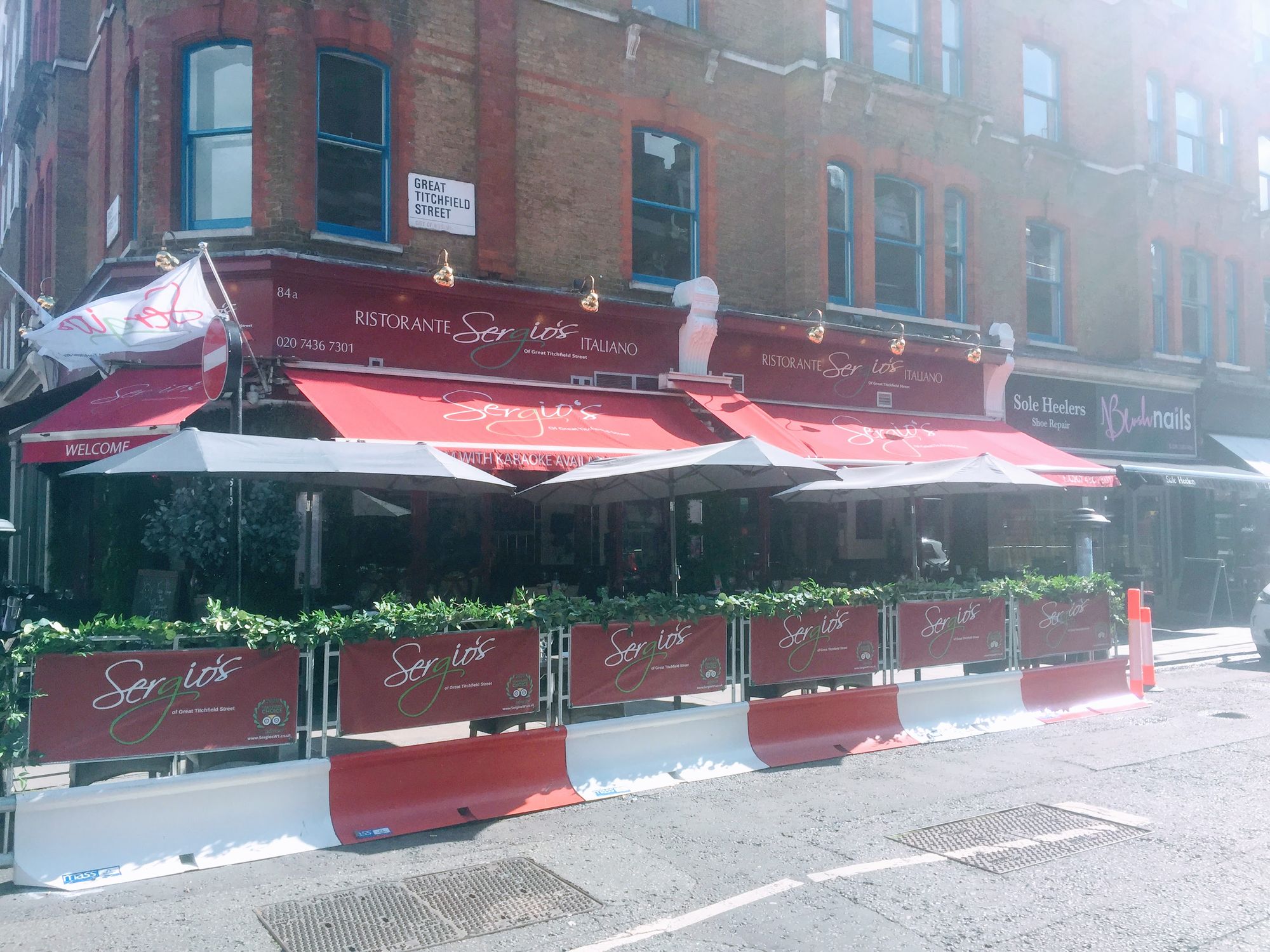 Walking around Fitzrovia, it's lovely to see people sitting at tables on kerbside space usually occupied by parked vehicles. It's changed the ambience - the street feels more open and people-friendly.
A local resident told me that the outdoor seating hasn't just saved local businesses from collapse, but helped residents as well.
"When we're not able to meet in each other's homes, an outdoor café is ideal," she says. "It feels more like a community now out on the street. And it's meant more footfall, which benefits other non-food businesses."
Street fight
Car, car, car..." Peter argues for a better use of street space
But swapping parked cars for tables and chairs wasn't as easy as it looks, according to one business owner.
Peter Dore-Smith runs Kaffeine on Great Titchfield Street (and its sister café on nearby Eastcastle Street). He was excited to hear about Westminster's 'brilliant' al fresco plans to help the hospitality industry recover post-lockdown – but when the council released the list of beneficiary streets, Great Titchfield wasn't on it.
"The council said they would consider other streets so I put forward Great Titchfield. Originally I went for a license to have tables and chairs on the pavement, but that got rejected as unsafe, and rejected again when I appealed. Then I got angry. Apparently I needed to gather more support, so I asked for tables in parking spaces alongside all the other restaurants and cafes on the street. The answer was still no, one reason being the loss of parking revenue to the council."
Peter was extremely frustrated by this point.
"Social distancing seriously restricts the number of customers you can have inside. Without being able to put tables on the street, some businesses were not even able to reopen. I was facing the prospect of letting some staff go. Yet just one parking space could make way for four or more customers."
He went into campaign mode, and made a video on Instagram. It got over 4,000 views. The BBC asked to cover his story, and with that, Westminster City Council granted his request.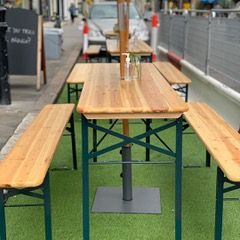 What's next?
When the council announced that the al fresco dining would be extended by a month to the end of October, Peter was delighted.
"I can't see how else hospitality businesses can survive," he says.
The Fitzrovia resident I spoke to agreed that she'd like to see the scheme continue throughout the winter. Would cold weather be a problem?
"It doesn't have to be. Other cold climates have a culture of eating outdoors in winter, like in Copenhagen. They say there's no such thing as cold weather, just not enough layers! But I'd also support cafes using infra red heaters for this winter only, even though I'm concerned about the environmental impact, if it means these businesses can survive."
Both of them point to New York, where Mayor De Blasio has announced not just a year-round al fresco 'open streets' scheme, but making it permanent.
Peter is hopeful. "It has made a major change and we get so much great feedback from all our customers. We are the ones on the front line, so we get this feedback all day, every day. If we can keep it going through winter, or even make a plan to have it back every summer from April to October, that would be amazing."
Do you think this change should be permanent?
You can support businesses who hope the council will make these temporary measures permanent. Find any street with al fresco or other measures on our map and choose 'Keep as is' or 'Keep but improve'. And don't forget to share with others!