How to make a play street in Westminster
By Susanna Rustin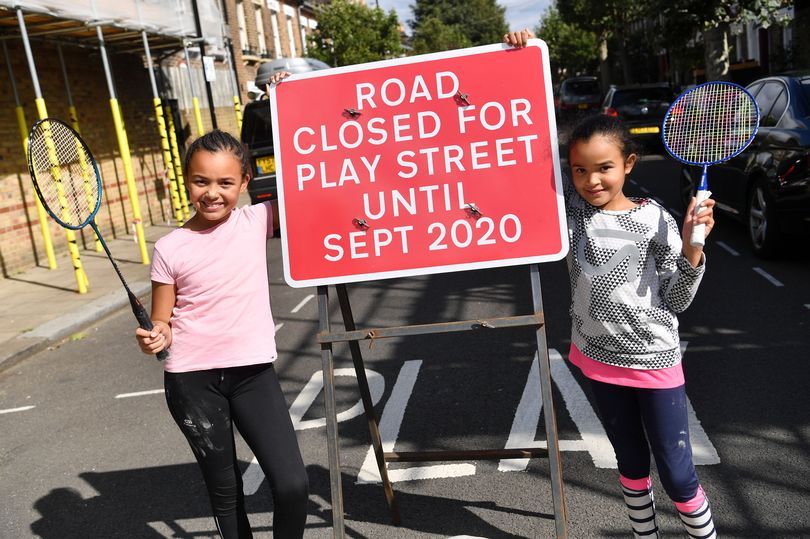 This summer (2020) saw the creation of five new "play streets" in the Avenues area of Queen's Park ward (in the northwest of the borough) on a temporary, pilot basis. I've lived in Queen's Park for nearly 20 years and have brought up my children here. I'm also a community councillor (Queen's Park has London's only community or parish council).
Having a community council made it easier to organise our summer holiday play streets, but wasn't essential - Westminster City Council's Active Streets programme means anyone in the borough can apply to turn their street into a play area. Fisherton Street (Church Street ward) was Westminster's first play street.
Our scheme was a success, bearing in mind the limitations imposed by the pandemic. We plan to repeat it next year, though precise locations may alter in response to local feedback.
If you want to do something similar, this is how:
Have a look at the Playing Out website https://playingout.net/ and the Active Streets https://active.westminster.gov.uk/activestreets/ page on Westminster's website, to familiarise yourself with the basics.
Identify a suitable location in your neighbourhood: either a street or a section of a street where you think children would benefit from playing and exercising in the road. Ideally, suggestions might come from a local child or family (this is what happened in Queen's Park).
If you want to find out if there is local interest or support for the idea, knock on doors or make a simple leaflet to put through people's letterboxes. In Queen's Park we held a socially distanced "community meeting" in the street. Schools or nurseries are obvious places for a "street play" group to get started. But the playing out movement isn't all about children: the sessions are an opportunity for neighbours of all ages to come out of their front doors, meet each other and enjoy a traffic-free space.
Talk to (or email) your ward councillors. They might help you but definitely ought to know what you have in mind.
Westminster has several different headings under which street play can take place. For residents, the relevant ones are "Street play" and "Play street" (which is a bit confusing). Turning a street into a "Play street" is a permanent change, and means that during certain hours, the street becomes a playground (although residents and deliveries are still allowed access). "Street play" is a pop-up play event - a temporary street takeover lasting a few hours. Westminster's rules say the first step to establishing a "Play street" (permanent) is to organise some "Street play" (pop-up) sessions. So if you're interested in getting something going in your area, running some "Street play" sessions is what you need to do.
The rules say that applications must come from a resident in the street being applied for. But if, for example, you live on a main road, and want to try "Street play" on a quieter nearby street instead, my advice would be go ahead and apply, once you have established that local residents are supportive.
"Street play" sessions require volunteer-marshalls - Westminster calls them "Street makers" - to keep an eye on things. The idea isn't that you are in charge of other people's children. You aren't. But with streets blocked off to traffic, there needs to be someone at either end to explain to drivers what is going on, and move barriers (and shout or blow a whistle of warning) if someone needs access in a vehicle. Westminster's rules say three volunteers are needed for each session.
Talk to other people who have done this before, or visit some existing street play or play street set-ups. Also, don't expect everyone to be enthusiastic and talk to people who have doubts or concerns (for example about noise, or damage to cars). Make sure they know that you are trying something out, not taking over. And don't let shyness put you off. Playing out is all about trying to make neighbourhoods more social places. Most people see value in that.