Climate safe streets ask 2: Safe cycle routes
By 2026, at least 75% of residents in Westminster will live within 400m of a cycle route that meets the highest standard, to create a network that is safe and inclusive for all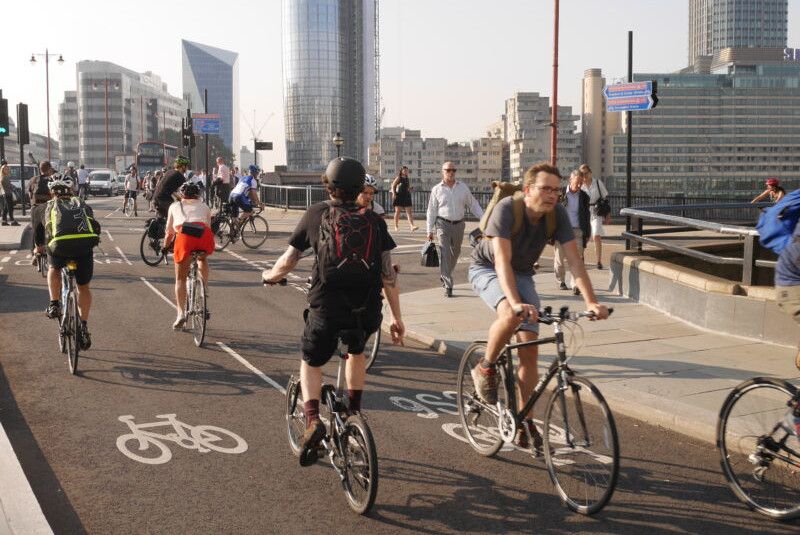 Cycling and climate change
11% of Westminster's emissions come from road transport. A key way to reduce carbon emissions and air pollution is to increase the number of people cycling. To do this, Westminster needs more safe cycle routes.
Safety
Safety is a key concern for anyone cycling. In a London-wide survey, 44% of Londoners said that a lack of cycle lanes was a major concern about cycle safety. Safety was the main barrier to 50% of Londoners who don't cycle regularly. Unfortunately, people have reason to be concerned. Between 2017 and 2021, Westminster had the highest number of cyclist injuries of any London Borough; 344 people were seriously injured in that time and, tragically, one person died. This is not acceptable. Protected cycle lanes are the best way to improve people's safety.
Diversity
Safe, accessible cycle routes increase the diversity of people cycling and make cycling more welcoming to women, ethnic minorities, disabled people and children. Installing protected cycle lanes has been shown to reduces the chance of injury by 40-65%.
There are robust, clear central government guidelines that the council can follow to make existing and future cycle lanes in Westminster safe and accessible for all.
Future Westminster
There is huge potential for a safe cycle network to be increased across Westminster. As well as the 23km of new cycle routes in Westminster in the council's climate action plan, the recent consultation outcome shows that there is overwhelming support from residents to make the temporary painted cycle lanes permanent and protected.
By 2026, we hope to see a safe, protected, connected cycle network covering most of Westminster that caters to all of Westminster's diverse population. Westminster's streets could be cleaner, healthier and better for the climate.