Missed opportunity on St. John's Wood High Street
The Council's proposals for public realm improvements on St. John's Wood High Street don't go far enough.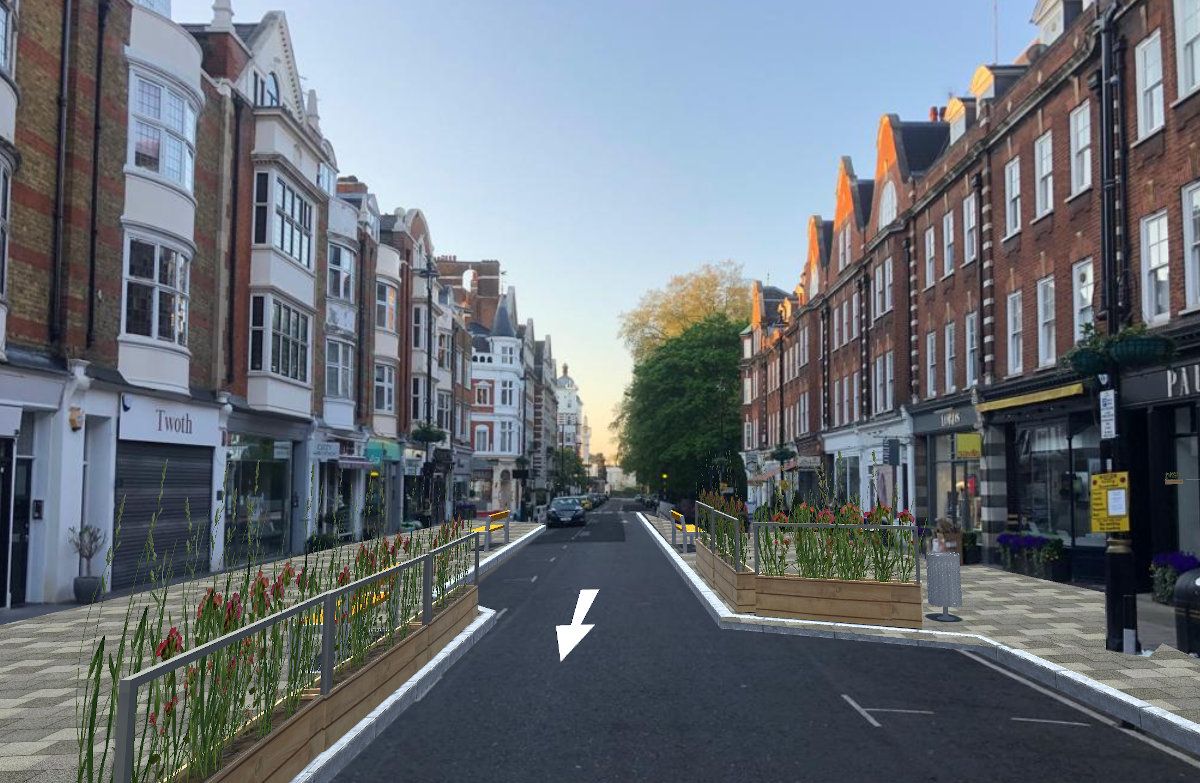 Let's hope the new Council administration can improve on the plans for St John's Wood High Street devised by their predecessors.
Back in 2020, under emergency measures brought in during the pandemic, the Council had provided temporary extra space for walking and cycling and made the High Street one way.
It is now consulting on making these and other measures permanent (the consultation closes on May 25th). The proposal is to partially widen the pavements, install raised tables at both ends of the High Street and add some trees, benches and street lighting.
Like any improvements to the public realm, these are to be welcomed. But with precisely zero net loss of car parking, the new scheme's impact will be negligible.
So with the council having declared a climate emergency, and London committed to net zero in just eight years' time, it's worth asking: what has made the council so timid?
A model high street
After all, this is – or should be – a model local high street. With its independent shops, cafes and restaurants, outdoor seating and relaxed, cosmopolitan vibe, it's the kind of high street that local government should be celebrating.
With the A41 running parallel just a few yards away, the High Street would have been an ideal candidate for pedestrianisation, thereby improving air quality for outdoor diners and encouraging dwell time.
Even if that was felt to be a measure too far, simply reducing parking (such as limiting it to one side of the road) would have helped achieve at least some of the benefits of pedestrianisation, while preserving car access for those who really need it. But even this modest potential improvement has been ignored.
'The right to drive'
Proposals to reduce car traffic are usually blocked by one of two groups (or a combination of both): residents who refuse to countenance any restriction on their 'right to drive', even for short distances; and business owners who fear a loss of trade.
Figures are not available, but it seems reasonable to assume that the vast majority of people visiting the High Street are from the immediate area. Nearby neighbourhoods, such as Maida Vale, Primrose Hill and Belsize Park, all have their own thriving businesses and high streets. The vast majority of visitors to the High Street could get there quickly and easily by walking or cycling. For those coming from further afield, public transport is nearby and plentiful.
As for business owners, we know from past experience that they tend to over-estimate a) the number of their customers who arrive by car and b) the extent to which low-traffic schemes will impact on their trade.
But we also know that such fears are unfounded. Surveys in boroughs such as Waltham Forest have shown that, once schemes have been given a chance to bed in, they not only prove overwhelmingly popular, with only a tiny minority of residents wanting to go back to the status quo ante, but result in increased footfall for business as the street in question becomes an attractive destination.
All this experience appears to have been ignored by the scheme's designers. Once again, unfounded concerns and vocal but unrepresentative minorities seem to have been given undue influence in the decision-making process.
Seen from the pavements of NW8, the kind of bold decisions being taken by city administrations in Paris and Barcelona seem like a world away.