Opening streets for hospitality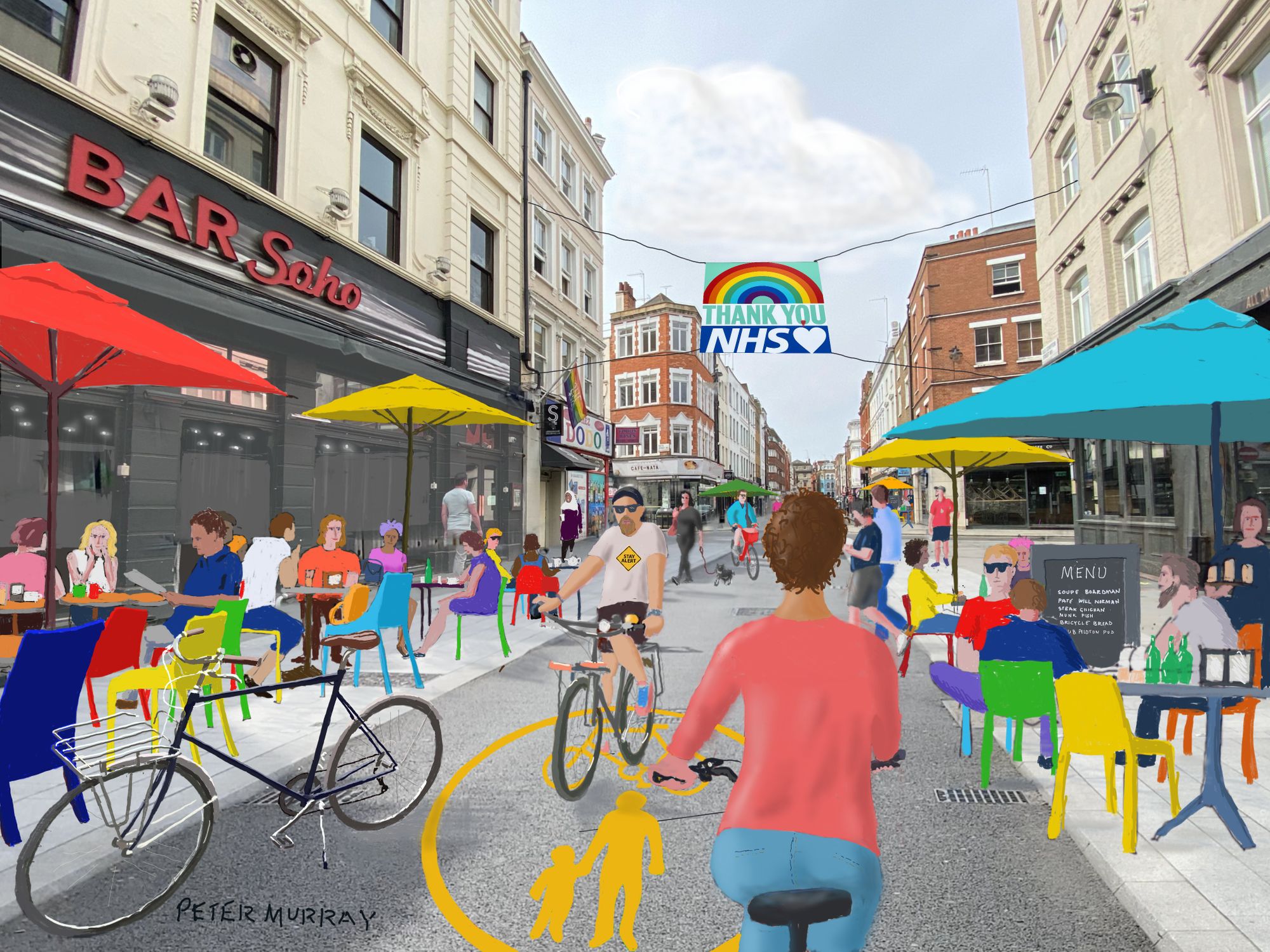 We're delighted to hear that Westminster City Council are planning an ambitious scheme to reopen cafes and restaurants for the summer, with timed closures and widened pavements on streets in Soho, Covent Garden and a number of other areas. They are looking for feedback. Here's ours - if you want to give yours, send it to movementstrategy@westminster.gov.uk by midnight on Sunday 21 June 2020.
Our response
We support these plans to reopen the hospitality sector and we appreciate the considerable time and effort that the council has put into coordinating the various stakeholders' needs and views.
Make it count for the long term
While this is a temporary, emergency scheme, we hope that it will give businesses and residents a glimpse of a future that relies less on, and is less dominated by, motor traffic. To go back to business as usual after a summer of 'open streets' would be a wasted opportunity to create the economically healthy, people-friendly streets that are widely enjoyed all over Europe, but less so in this country. We would like the council to monitor the changes to indicators such as air quality and footfall while the scheme is in operation. This can be used to inform a conversation about measures like low traffic neighbourhoods in each of these areas in the long term.
Timed street closures
These are very welcome for prioritising people over traffic to support businesses, especially on narrow streets like Soho's. We're pleased to see how widespread the plans for closures are. (However, in Soho will the 5pm start on weekdays allow businesses enough customers per day to recover?)
Don't forget walking and cycling
Where space allows, tables and chairs should be positioned to allow the safe passage of pedestrians and cyclists through streets closed to motor traffic - these can be a vital active travel link for people avoiding busy roads. Banning cycling (except perhaps on the narrowest of streets) and/or obstructing pedestrians could mean inadvertently creating a barrier to active travel, especially if there aren't protected bike lanes on surrounding main roads. And people will need to access these centres of hospitality on foot and by bike from mainline stations and major tube stations, so safe space will be needed (for instance along Wellington Street and Bow Street between Waterloo Bridge and Covent Garden).

Delivery and waste consolidation
We welcome the plans for consolidation hubs. From our conversations with stakeholders in the West End, we understand that this already needed addressing urgently, with an excessive number of large vehicles per week per street creating noise and danger. Crown Estates' consolidation project on Regent Street provides an excellent example of a scheme that the council could roll out borough wide. We suggest using e-cargo bikes for 'last mile' deliveries (rather than heavier electric vehicles which can still pollute and endanger pedestrians). Some examples:
Car parking or people parking?
We welcome the temporary suspension of parking to make space for outdoor dining. Parked cars take up an excessive amount of public space in Westminster. They also facilitate people driving short journeys, increasing carbon emissions and pollution and reducing active travel. Reallocating these spaces (except disabled and loading bays) to shared cars, bike parking, parklets and space for people should be a key plank of Westminster's climate and air quality strategies. The open streets scheme is an opportunity to reallocate space and not simply return to the same amount of parking provision once the summer is over.