Safer streets for schools in Westminster
In response to the COVID-19 emergency, the Department for Transport mandated all local authorities in May, to implement measures "in a matter of weeks". An Emergency Active Travel Fund was set up, and local authorities were invited to bid for funding. In London, the money was delivered by Transport for London, although boroughs could fund some of the measures themselves, which is what Westminster did for the provision around schools.
This year has shown that reallocating road space has to form part of the response to enable people to distance from one another safely, with School Streets emerging as a clear measure to achieve that.
The principles underpinning these schemes are to limit the risks of transmission of the virus as well as protecting children and families from road danger around schools. Ever since the end of lockdown, we have also been urged to avoid public transport, due to reduced capacity, and advise to cycle or walk to school where possible. This advice has been coupled with making the streets around schools safer for students and families to access via foot or bike.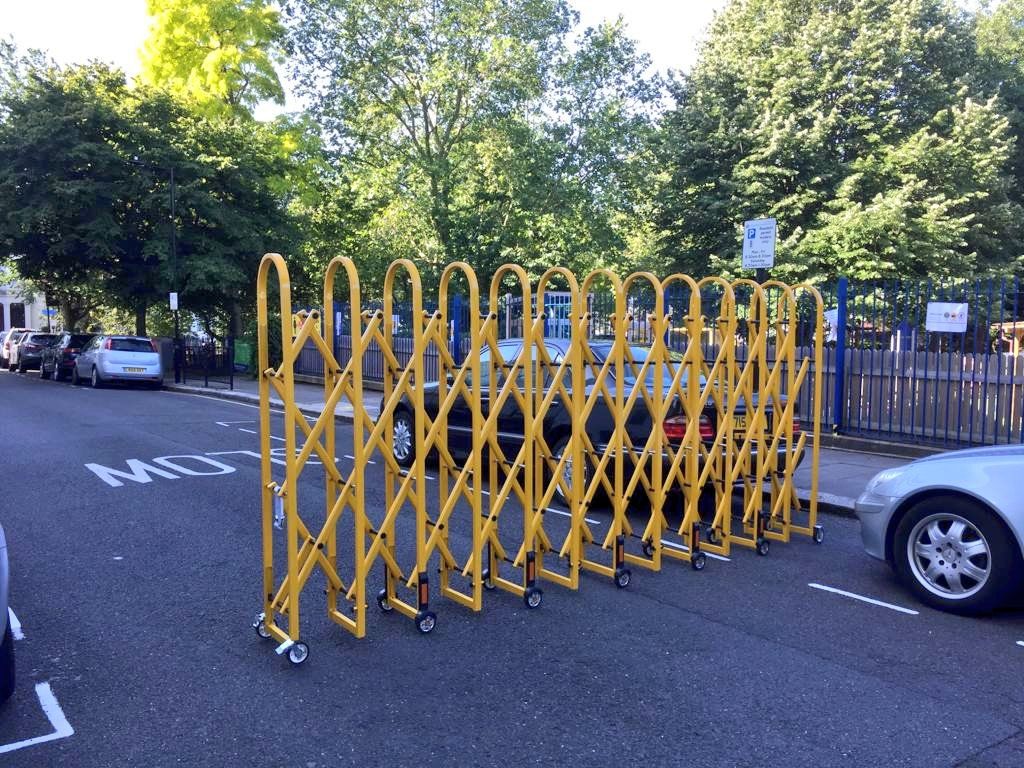 Benefits
As months passed, a correlation also emerged between long term exposure to air pollution and mortality rates from this respiratory illness. "Studies in the United States (US), Northern Italy and the Netherlands all found that a small increase in pollution exposure raises the number of COVID-19 deaths, with the most recent study in the Netherlands pointing to a rise in the death rate of up to 21%."
As part of Westminster's Street Delivery Plan during COVID-19, the council moved quickly on implementing and funding temporary school streets, using Section 18 of the Traffic Management Act 2004.
In late May, several schools were offered a temporary school streets scheme to operate from June until December 2020. As the council was already working on rolling out permanent schemes to more schools, before the pandemic, they were able to use the list of schools already assessed for suitability and which had expressed an interest. Those temporary school streets have a physical barrier (gate or cones) as opposed to permanent ones which will be enforced with ANPR cameras.
Schools which were already earmarked for a permanent scheme before the pandemic were also offered a temporary one, while progression was made on the original offer.
Where are they?
As of October, five schools are in line for a permanent scheme:
ARK King Solomon Academy – Younger Year Site, Crompton Street
Westminster Under School, Douglas Street
Essendine Primary School, Essendine Road
Soho Parish CE Primary School, Great Windmill Street
ARK Atwood Academy Primary, Amberley Road
The following schools accepted the offer of a temporary scheme (June – December 2020). You can find individual times during which the school streets are operational on the council website.
St Peter's CofE Primary School
Barrow Hill Juniors
Queens Park Primary School
St Mary's of the Angel RC Primary School
George Eliot Primary School
Connaught House School
St Peter's Eaton Square CE Primary School
King Solomon Academy - Younger Year Site (formerly ARK Paddington Green Primary Academy)
Essendine Primary School
Extra cycle parking was also offered to support families actively traveling the school run.
Assessments of schools are ongoing and if your school is not yet listed, do let the council know of your interest through your ward councillors. In the meantime, do start the conversation with the school, parents, and residents.
School streets are an effective tool at our disposal and within the powers of the council, to keep the roads around schools free from road danger and pollution with a proven positive impact on surrounding streets too. They also effectively and gently nudge families to try a more active school run.