Dear Westminster, we need urgent action
Westminster Healthy Streets has joined forces with other local groups and residents associations to demand urgent changes to our streets, as we enter a post-lockdown, socially distancing world. Read our open letter to Westminster City Council below.
Giving more road space to people walking and cycling is no longer 'nice to have' - it's now mandated by the Department of Transport in response to the Covid-19 crisis. New statutory guidelines state that the government:
"expects local authorities to make significant changes to their road layouts to give more space to cyclists and pedestrians."
While other cities around the world and other boroughs in London have been quick to plan ahead and announce changes that streets will need, very little has been forthcoming from Westminster Council. With no action, and public transport at low capacity, streets will quickly fill with motor vehicles again. Walking and cycling will be difficult, air quality will plummet, and social distancing outside shops will be impossible on many streets.
With this in mind, we wrote a joint letter to the Council Leader demanding urgent action, a copy of which is below. A reply on 12 May said "we will provide a more substantive response shortly".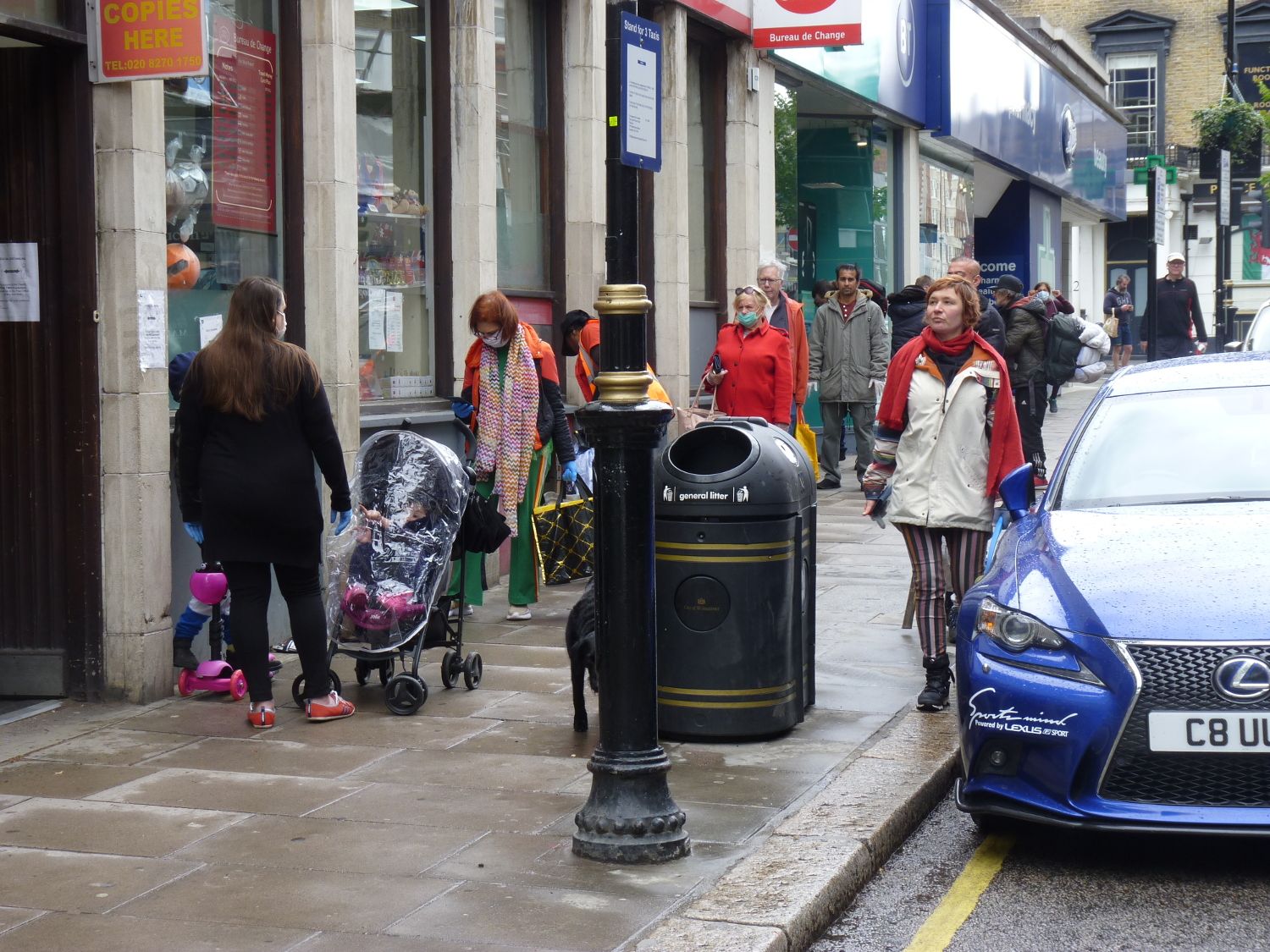 ---
Dear Cllr Robathan,
First, we want to thank you for all that you and Westminster City Council are doing to protect and help residents and businesses at this incredibly difficult time.
We're writing to you as local campaigners to ask for an urgent response to the effects of the Covid-19 crisis on our streets. Westminster's streets as they stand will make safe social distancing nearly impossible as lockdown eases; and there is a threat of a return to previous - or worse - levels of traffic pollution. Conversely there is a chance during this crisis to reshape Westminster's streets for people rather than traffic, and to establish a new, healthier status quo; a chance to come out of this crisis without going back.
If it does not create space for safe social distancing, Westminster risks a slower economic recovery as visitors, workers, shoppers and residents become wary of using less safe, crowded streets with narrow pavements. This could have a particularly significant impact in Oxford Street and across the rest of the West End.
Short term: space for distancing
Much of Westminster's street space is allocated to motor traffic. This makes safe social distancing very difficult. If even a fraction of Westminster's workers return to work and shops and schools reopen, social distancing in the current space given to pedestrians will be impossible. Safe road space is also needed for the key workers who are avoiding public transport by cycling to work, especially (as is already happening) traffic begins to return. And bear in mind that social distancing may be needed for up to 18 months.
Therefore, please consider:
Widening pavements temporarily, for instance by suspending parking or coning off a traffic lane. This has now happened in Lambeth and Ealing and is planned for a growing number of boroughs.
Closing side roads to through traffic (maintaining access for vehicles) to create 'low traffic neighbourhoods' that give room for social distancing across the whole street. In areas such as Soho this would enable pedestrians to avoid crowding on to narrow pavements.
Restricting traffic on school streets when schools reopen to allow social distancing at school gates.
Creating pop-up bike lanes as 'key worker corridors', as Leicester is doing, by coning off safe cycling space on main roads.
Creating traffic-free streets to allow cafes and shops to reopen and the local economy to pick up again, as Vilnius is planning across its whole city centre. There is great potential for this in Soho and Covent Garden, for instance, where much of the traffic is simply cutting through.
As your legal department will know, councils have powers to take these emergency actions. London Living Streets has produced this guide for local authorities.
Long term: lock in the benefits of low traffic
You have been very clear that air pollution is a top priority of Westminster City Council and rightly so. We know that air pollution prematurely ends 9,500 lives a year in London, permanently damages children's growing lungs - and now a link has now been found between high levels of pollution and the Covid-19 death rate. The lockdown has seen NO2 fall by up to half in Westminster - it cannot be allowed to return to its previous, illegal levels. This is our chance to change the status quo and prioritise clean air by reducing motor traffic. People have had a taste of clean air and safe space to walk and cycle and the vast majority don't want to go back to business as usual.
However, there is a real threat that with public transport operating a skeleton service for months to come and people avoiding the risk of infection, Westminster's streets could fill up again with polluting cars, taxis, vans and so on. Note that Wuhan's post-crisis population has switched dramatically to cars away from public transport. We believe the council can act now to prevent this happening here. Lambeth's Covid-19 transport strategy response provides a good example of what can be done in an inner London borough.
We urge you to:
Seek to permanently reduce levels of motor traffic. Urgently put into place public plans and targets for motor traffic reduction, using data available from before and during the crisis, to identify priority opportunities to change streets permanently for the better. These plans need to go further than Westminster's current transport strategy and Air Quality Action Plan. There needs to be less reliance on electric vehicles and more on reducing traffic wholesale and enabling walking and cycling, with an emphasis on consolidating deliveries to reduce van and HGV journeys on our streets.
Return space and priority to active and sustainable travel modes, rather than motor traffic. Where possible, turn the temporary motor traffic restrictions suggested above into trial and then permanent schemes. Enable walking by giving more priority to pedestrians over traffic with wider pavements and shorter waits at pedestrian crossings. Pursue London Living Streets' ideas for a network of healthy walking routes through Central London. Enable a shift to cycling, for instance by creating safe routes to schools and using Westminster's professional cycling instructors to give families the confidence to ride the school run.
Go ahead with planned improvements. The current situation makes this more important than ever. We understand that funds may now be scarcer, but seek your reassurance that you will press ahead even if money has to be saved by a less expensive implementation.
We trust that you will take these proposals seriously. We were disappointed to learn that Westminster City Council plans to reopen pedestrianised Grosvenor Square West to motor traffic, creating space for vehicles at a time when the exact opposite is needed.
We would welcome an online meeting with you to discuss these issues.
Thank you,
Andy Beverley, Westminster Healthy Streets
Peter Hartley, Westminster Living Streets
George Waite, The Belgravia Society
Gaby Higgs, The St Marylebone Society
David Harrison, London Living Streets
Colin Wing, Westminster Cycling Campaign
Michael Mcsherry, IWGB Cycling Instructors Branch
Jemima Hartshorn, Mums for Lungs