Twenty's plenty for Westminster
There's less than a week left! Please say yes to Westminster City Council's consultation on a borough-wide speed limit of 20mph. It closes on Tuesday 10 December - you can find the survey here. But why support this proposal?
20mph saves lives
The stark truth is that if you are hit by a motor vehicle, you are far more likely to die if it was travelling at 30mph than at 20mph. If you're elderly, your chances are even worse.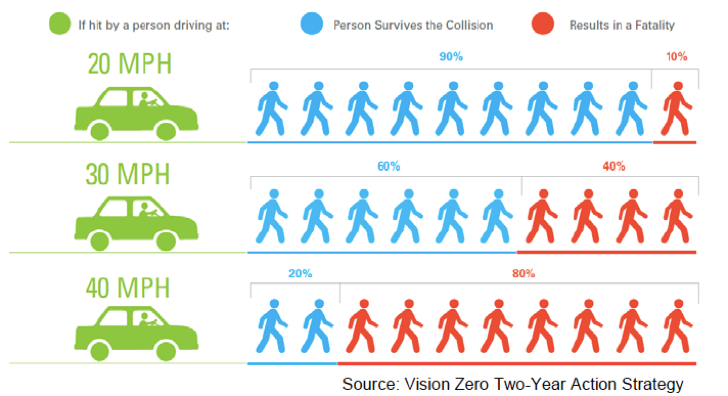 Westminster's road casualty rate is worse than average for London, according to the Healthy Streets Borough Scorecard. No death or injury is acceptable - anything that can save lives and limbs on our roads needs implementing urgently. 20mph is part of the Mayor's Vision Zero tool box for tackling road danger in London.
A 20mph limit enables more walking and cycling
Studies show that 20mph zones see a small but significant increase in walking and cycling as people feel safer to travel actively. The health benefits of daily exercise on the way to school, work or shops can't be overemphasised. Physical inactivity is endemic in London and the cause of many life-threatening health conditions including heart disease, cancer and diabetes (see below).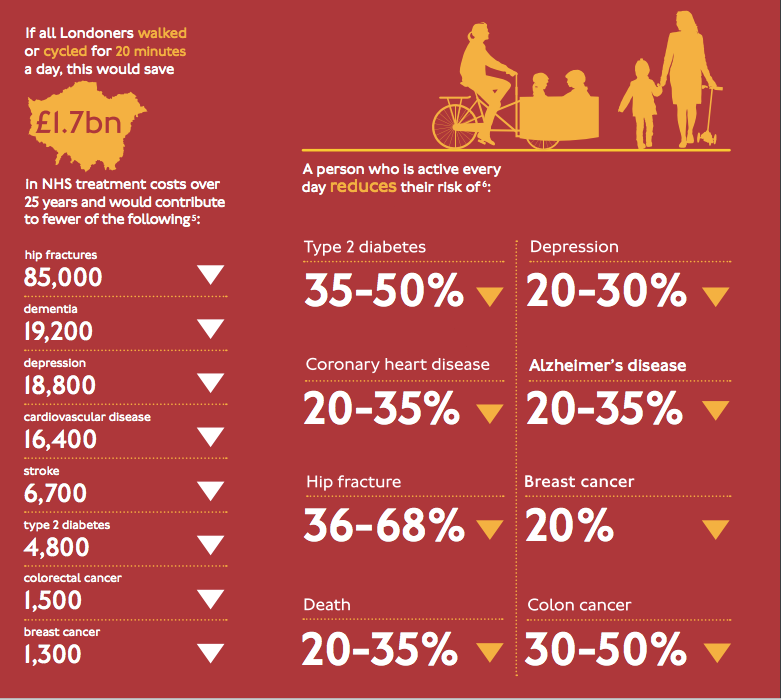 This especially benefits children - under 18s need a full hour of exercise a day, but as many as 42% of UK children get less than half. More walking and cycling, where it replaces car journeys, also means fewer emissions from vehicles and therefore better air quality.
Will it actually reduce speeding?
The posted speed limit might be 20mph but will drivers respect it? Yes, according to a study in Bristol, just putting up signs does reduce average speeds. Making the limit borough-wide means that even without seeing a sign, drivers can assume that the street they're in has a 20mph limit. And the limit sets a context for further traffic calming design where needed, such as road narrowing, tighter junctions, speed cameras and so on.
How else can we make our streets healthy?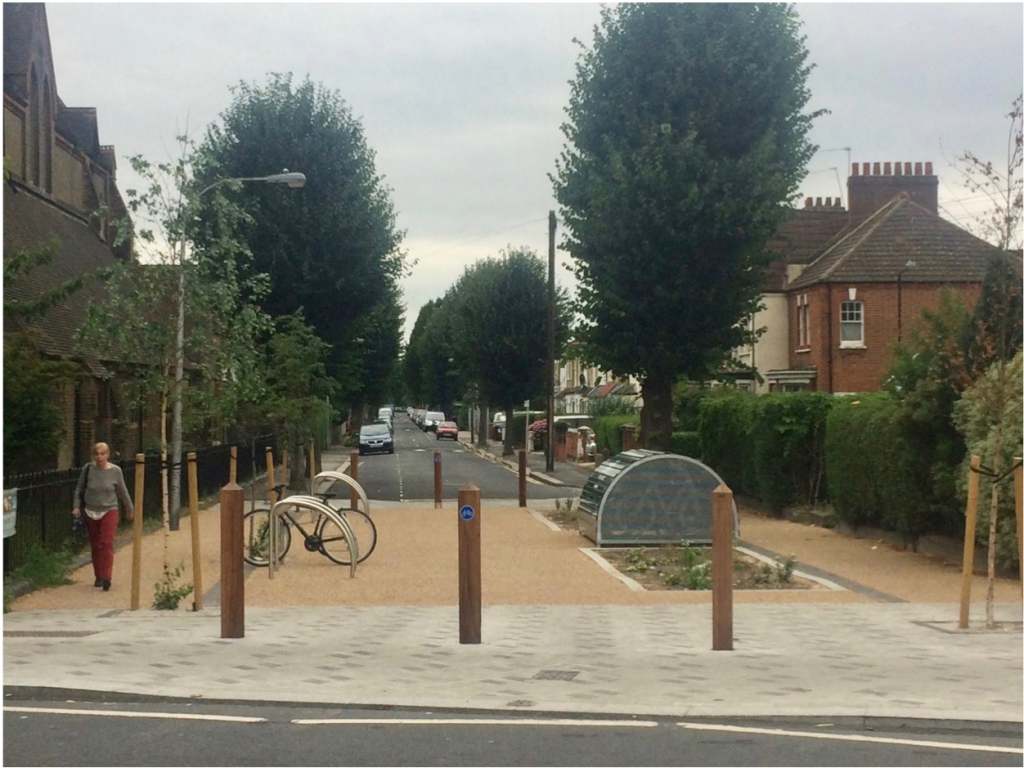 In the same survey, Westminster City Council ask what else they can do to make our streets healthier. For us the answer is all about reducing motorised traffic. If you agree, you might want to include Westminster Healthy Streets' 'asks' in your response:
Create a network of safe, direct walking and cycling routes across our borough. Enable more walking and cycling - and not just for the fit and the brave. Westminster lacks a coherent network of cycle and pedestrian-friendly routes for all ages. Too many streets are dominated by motor traffic, so that for instance a child couldn't cycle on them to school, or lack vital links such as crossings over busy roads. That needs to change!
Remove through traffic from all residential areas to create 'low traffic neighbourhoods'. Closing 'rat runs' across a whole neighbourhood creates a network of quiet, low traffic streets where any age can walk or cycle and children can play. Studies of the London Borough of Waltham Forest found this treatment reduced overall car journeys, boosted walking and cycling and improved air quality.
Make school streets traffic-free at school run hours. Timed traffic restrictions on school streets at the start and end of each school day are becoming more common across London. The results are cleaner air and less danger for children at the school gates, and a reduction in school run traffic, with more families choosing to walk, scoot and cycle to school.
Repurpose car parking spaces for seating, greenery and bike parking. Car parking takes up thousands of kilometres of public space in London and encourages people to drive instead of using more sustainable options. We'd like to see kerbside space used better, such as for bike parking, somewhere to sit, planting and even play areas or art installations. How would you use that space?