Where are Westminster's School Streets?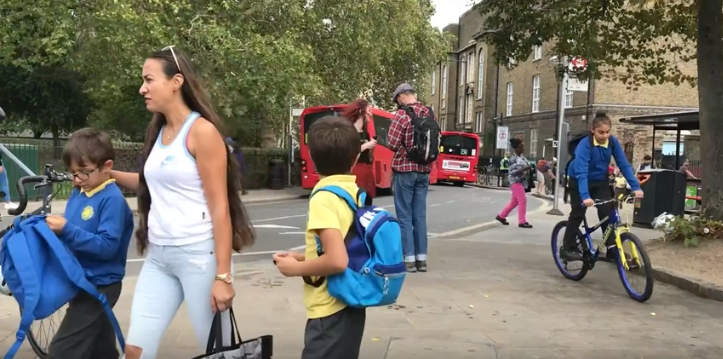 In April 2021, Westminster Council updated schools in the borough that following on from the implementation of emergency school streets at nine schools, it would now be progressing with permanent schemes to 16 schools during a process that will last for a maximum of 18 months. The schools concerned are:
| School | Ward | Road |
| --- | --- | --- |
| Essendine Primary School | Maida Vale | Essendine Road |
| ARK Atwood Academy Primary | Westbourne | Amberley Road |
| Soho Parish CofE Primary School | West End | Great Windmill Street |
| Barrow Hill Juniors | Regent's Park | Bridgeman Street |
| George Eliot Primary School | Abbey Road | Marlborough Hill |
| Hampden Gurney CE Primary School | Bryanston and Dorset Square | Forset Street |
| Queen's Park Primary School | Queen's Park | Droop Street |
| St Mary's of the Angel RC Primary School | Westbourne | Shrewsbury Road |
| St James and St John CE Primary School | Lancaster Gate | Craven Terrace |
| Connaught House School | Hyde Park | Stanhope Place |
| St Peter's CofE Primary School | Harrow Road | Chippenham Mews |
| St Peter's Eaton Square CE Primary School | Warwick | Lower Belgrave Street |
| St Matthew's CE Primary School | St James's | St Ann's Terrace |
| St Mary Magdalene CofE Primary School | Westbourne | Rowington Close |
| Christ Church Bentinck Primary School | Church Street | Cosway Street |
| St Joseph's RC Primary School | Little Venice | Randolph Avenue |
The plan was to have a 6 months' consultation running in parallel to the schemes being implemented, but with only signage in place to start with. Changes in traffic would be monitored and feedback from parents and residents assessed, providing an opportunity for the council to measure how the scheme is working. The council would make adjustments if needed.
This is the type of sign you should soon see near your school. Times will vary depending on schools' individual preferences/circumstances.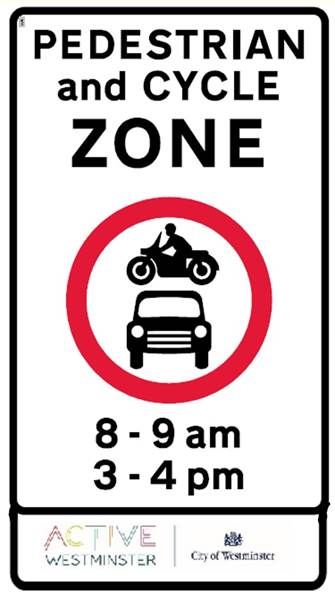 We are now in August and alas, not very much has happened on the ground since. We now understand, the plan has been delayed with a scheduled start not until after the autumn half term, prompting local councillors to blog about the uncertainty and parents to resort to starting a petition.
As we all wait for these effective measures to finally be implemented, we have compiled a list of ideas to support you, support your local School Street, when the consultation period finally begins.
Keep the conversation going!
During the consultation period, it is important for the schools concerned to engage with parents, residents, and the wider school community to ensure everybody can have an informed say in the scheme. At the end of the 18 months period, the Lead Member for Highways at the council will look at the responses, see how it evolved over time and decide to keep each scheme permanently.
Parents must engage with the process and each other to share the information so everybody understands what School Streets are, what they achieve in terms of health benefits and the wider wellbeing gains. The most critical periods will be at the beginning and towards the end of the 6-month consultation. Here are some ideas to keep the momentum going:
Regularly ask the school to include information in their communication, reminding parents to feedback to the consultation.
If permitted, do organise small events to inform people further. Make something fun, ask children to draw pictures and posters, showing the benefits of clean air and active travel to school. Alternatively, Mums For Lungs has a poster to encourage people to say yes to School Streets.
Do a bake sale, inviting the nearby residents to ensure good communication and to prevent any misinformation. This can be an opportunity to discuss together what else could be done to improve the environment around the school? What type of street they would like to see? More trees? More flowers? Think of projects the schools and residents could be working on together to make the area better for everyone.
Provide information for people who will still be driving to school, pointing them to locations away from the gate to park, where it would be safe for the children.
Ask parents to write to their ward councillors, supporting the scheme. Make it as easy as possible by drafting the main points, providing the names and email addresses of councillors and encouraging them to share their own experience of the scheme, thinking of how it compares with before the scheme was implemented.
Form a steering group of School Streets Champion(s) to lead on sharing information to lighten the school's staff load. Prepare brief messages, reminding parents and residents to respond to the consultation, using whatever platforms or communication channels are used the most among parents at your school.
Support parents in changing the way they come to school by sharing information about Walking Bus or Cycling Bus. The TfL STARS programme has lots of ideas for activities to do with the children to raise awareness about sustainable travel to school.
There are currently more than 500 schemes in London alone and there are a lot of data available as well as evaluation reports into School Streets, showing that they do work in achieving a safer space for the children outside the school gate.